Atty. Robert Shute founded The Injury Law Office of Robert W. Shute in Chicopee, Massachusetts in the year 2000. His sole focus has been fighting to get compensation for people who have been injured by the careless acts of others. Atty. Shute began his legal career as an attorney in the City Solicitor's Office for the City of Holyoke, Massachusetts. He represented the city in numerous court and administrative matters, including successful representation of the City in the Massachusetts Supreme Judicial Court. He went on to become a senior partner in a Pioneer Valley litigation and general practice law firm, a position he held until founding his own law firm.
Past Cases
Pedestrian/Vehicle
$300,000.
Medical/Surgery Negligence
$2,000,000.
Workers' Compensation
$380,000.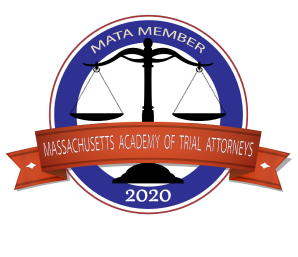 Attorney Shute is a member of the Massachusetts Academy of Trial Lawyers, a professional organization that is committed to educating both the public and the legal profession, with the goal of protecting the health, safety and legal rights of families in Massachusetts. He was educated at Stonehill College in Massachusetts where he received his BA in Economics. He attended the Columbus School of Law at The Catholic University of America in Washington, D.C. where he earned his Juris Doctor (JD) degree. Atty. Shute has devoted many hours to local public service activities including serving as the attorney-coach for a local high school's Massachusetts State Champion Team in the Massachusetts Bar Association Mock Trial Competition.
Million Dollar Advocates Forum
Trial lawyers recognized in this group have obtained a settlement or jury verdict of one million dollars or more. Fewer than 1 percent of lawyers in the U.S. are members of the Million Dollar Advocates Forum.

Ronnie C.
 My heart is full of gratitude to have had Attorney Robert Shute represent my son when he was injured in a auto accident. Attorney Shute's kind, reassuring voice was the calm in the storm. He stood by my son while he was recovering and answered every question we had, and I had many!  If you or your family or friends every need a lawyer, with years of experience, who knows just what to do, call Attorney Robert Shute. He's the Real thing, not a T.V. actor lawyer. I feel truly Blessed to have had him by our side.

D. Boone, Springfield
Positive: Professionalism, Quality, Responsiveness, Value I highly recommend Attorney Robert W. Shute as a personal injury attorney. I was injured in an auto accident several years ago and Attorney Shute provided me with high-quality legal representation to ultimately reach a favorable settlement. I was so satisfied with Attorney Shute's professionalism and timely communication that I recommended him to my family members and friends when they needed a personal injury attorney; they too were very satisfied with his legal services. Additionally, Attorney Shute has been an invaluable resource and mentor, sharing his vast law knowledge and experience with me in my practice of law as well.

Phillip G. 
If there was ever a person that you would want to represent you it is by far your best decision to use Attorney Bob Shute. My accident happened several years ago and Bob Shute never gave up and worked so hard for my best interest! He would explain everything in detail and would translate everything in layman's terms so I would understood everything that was happening so that I was able to make the best decisions. He never gave up and fought hard for me! I would always recommend Attorney Shute for anything you needed!

Z. O-I.
I would highly recommend The Injury Office of Robert Shute to anyone in need of legal services. He is not only Honest, Reliable and caring, but his office is always professional, responsive, knowledgeable and resourceful. He explains the process entirely and does all he can to ensure a great outcome for all his clients. Attorney Robert Shute is will always be my first choice, if I need it again.

Charlotte
He was an amazing lawyer to work with and was always updating me whenever he got news with my settlement after getting hit by another car last year. He is excellent at explaining everything and gave great advice. Highly would recommend him to anyone.

Joe V
I had a great experience with Attorney Shute. He spent time to understand my situation, worked hard to develop the case and was persistent in pushing it through the process and in the end he got me a very good settlement. He is very knowledgeable and easy to interact with too. Hiring him was a good investment and I definitely would use him again.

Z. Coleman
Attorney Shute is a great Lawyer! He represented me very well for the injury I got and he had my back the entire time. I highly recommend him!

Kathy V
Attorney Shute does an outstanding job. I can't say enough good things about him and his work. Through the entire process, he was very patient and professional and kept us informed of his progress. He always took the time to be sure we clearly understood our options and he secured a great and fair settlement in a very timely manner. He was really wonderful to work with during a very stressful time. I very highly recommend Attorney Shute!

A.B., Springfield
Attorney Shute is an exceptional lawyer who practices law with honesty and genuine integrity to ensure the best possible outcome for his clients. He has a friendly staff and he is always available to answer questions about your case and explains every possible scenario so that as a client you are aware of all of your options and you remain well informed about the status of your case. My family and I have utilized his services on more than one occasion and his results have proven to be fair and reasonable. I would definitely recommend his services to others.

Jeannine M.
I was hit by a hit and run vehicle as pedestrian. I went through the motions as instructed by the proper people. Hiring an attorney was not something I had realized I needed to do. After being in the Dr's office overwhelmed by the paperwork and pain someone said, your Attorney will do that for you. So I went on a hunt. If you are looking for an Attorney who you can actually talk to on the phone, Attorney Shute is your guy. He was always very professional and he explained everything in a way I always understood. He is patient, a good listener and aware of my injuries making me comfortable. I don't hesitate to tell people he's a great choice. And oh yes, we won my case.

E.C., Greenfield
Attorney Shute helped me through a difficult legal process after I was injured in an auto accident. Although the case was complex, he carefully, methodically and patiently advised me over all the hurdles that were placed in our path. Even the smallest accidents can be traumatic and legal nightmares. Attorney Shute traveled to my home to meet with me while I was injured and so traumatized I was unable to drive. He is smart, capable, and accessible. I recommend him very highly to anyone in need of expert personal injury advice.

R. Sears,
Robert did a fantastic job with my case. I can't express that enough! Absolutely on point and very helpful!!! I recommend him to everyone!

J. Price
I was dealing with a tough situation and needed legal guidance. Attourney Shute not only helped me through the process, he helped give me a better understanding of how the legal process works when dealing with various aspects of legal formalities. He is always punctual and pleasant as well and did a wonderful job of keep me in the loop of happenings and explaining aspects that I was not clear about throughout my experience. He made me feel more comfortable and confident with his legal guidance. I would recommend Attourney Shute to anyone in need of legal guidance or assistance and will guarantee you will be very satisfied with all the services and legal expertise he provides. Definately will be my go to Attorney on any legal matters

Loren D.
Attorney Shute was thorough, professional, and knowledgeable with our case. We highly recommend him!

S. Torres
I would like to thank Mr shute for all his help he went above and beyond for me yoou are the best I have could not have done this without you thanks to you I have a future again and I have no worries and God bless and thank you for everything you are the best I appreciate everything you've done for me and for my family thank you thank you thank you
Attorney Shute's Approach to Personal Injury Cases
Every client's case is unique and for every case Atty. Shute develops a specialized strategy for achieving success. There are, however, two unwavering constants in the way Attorney Shute handles all of his clients' injury claims:
A famous injury attorney, known for his many trial successes, was admired for magically "pulling a rabbit out of the hat" during a trial to win the day. When asked how he did it he said that for every rabbit he pulled out of the hat, he had 50 others waiting in reserve. In other words his key to success was preparation. He studied the evidence and law to anticipate the moves that defense lawyers might make and he developed his responses, in advance, to cover every contingency he could think of.
Following that philosophy, Attorney Shute approaches every case with the idea that thorough preparation is the key to success with injury cases just as it is in other areas of life. A well prepared case accomplishes several goals. It increases the likelihood that your case will settle for a fair amount without a trial because your opponent will recognize the risk of going to trial against a prepared opponent. If the case does not settle, then thorough preparation will serve you well in court. If your case does go to trial, it is particularly important that it be prepared thoroughly and presented honestly, in a way that respects the intelligence of the jurors, respects the time they are devoting, and gives them the information they need to honor their commitment to reach a fair verdict. Attorney Shute is committed to that goal.
Another constant with Atty. Shute's injury cases is that when his clients have questions or when there are strategy considerations to discuss, clients speak with Atty. Shute personally and they receive legal advice from Atty. Shute personally. Atty. Shute's office is not a "big box store" experience. You do not get passed from person to person. You come here for Atty. Shute's personal attention to maximize your compensation, and that is what you get.
Call and ask to speak with Atty. Shute, personally, (413) 592-0999. There is no charge for your consultation and the legal fee for your case is paid out of what Atty. Shute makes the other side pay you. You never pay a legal fee out-of-pocket.
Learn Your Options
If you have been hurt or if you're suffering financial consequences that are not your fault, you might be wondering what your options are. Fill out the form on the right for a free case evaluation.